UK sets date for Ukraine tank announcement – Guardian
Kiev reportedly hopes the decision will convince Germany to donate its own Leopards as well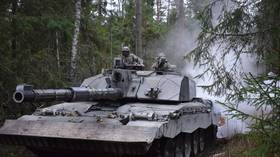 Britain will announce the donation of ten Challenger 2 main battle tanks to Ukraine, The Guardian reported on Friday, citing Ukrainian sources. In doing so, the UK would become the first NATO member to send Western-designed tanks to Kiev, as pressure mounts on Germany to follow suit.
A formal announcement is expected on Monday, the newspaper's sources said. These same sources said that while ten Challengers will likely have no impact on the tide of battle, they hope the decision will push Germany into allowing its European allies to export their stocks of Leopard tanks to Ukraine, which Berlin has thus far not authorized.
Poland and Finland both said this week that they would send Leopards from their own stocks to Ukraine, provided neither did so alone. The US has ruled out transferring its own M1 Abrams tanks, but last week announced that it would send Bradley infantry vehicles, as Germany and France simultaneously announced the transfer of similar armor.
News of the Challenger donation has already been drip-fed to the media by British authorities. Officials told Sky News on Monday that Prime Minister Rishi Sunak had been discussing the possibility for "a few weeks," and that the UK "might offer around ten" tanks. A spokesperson for Sunak then told reporters on Wednesday that the decision had been made, without providing a timeline for a formal announcement.
The German government's official position is that it will not be swayed by any announcement from London. "There is no change in the situation now because of the step that the British government has announced," a spokesman said after Wednesday's news.
However, Ukraine expects the Germans to cave in the end. "Germany will do it anyway at a later date," Ukrainian Foreign Minister Dmitry Kuleba told the Tagesschau news channel on Wednesday. "We have already seen this with the self-propelled howitzers, with the IRIS-T anti-aircraft system and most recently with the Marder and Patriot systems."
Russia has repeatedly warned Western countries against sending arms to Ukraine, arguing that doing so will only prolong the conflict. On Tuesday, Kremlin Press Secretary Dmitry Peskov accused NATO and the US of "definitely taking part in this conflict, although indirectly, by proxy," as they continue to send weapons.
You can share this story on social media: