Hungary in 'culture shock' from German policies – Orban
The Hungarian PM says his people have lost faith in Berlin and Brussels after failed sanctions sparked an energy crisis in the EU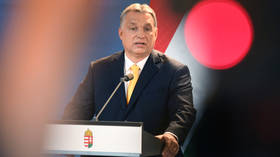 Policies introduced by the German government and German politicians in the European Commission "miscalculated" the effects of anti-Russian sanctions and caused a "culture shock" in Hungary, Hungarian Prime Minister Viktor Orban said in an interview on Friday. He added that the EU doesn't have the courage to admit the fallacy of its sanctions policies.
"I grew up with the feeling that the Germans are precise, engineers, they calculate, take their time, they know what they are doing," Orban told Kossuth Radio, adding that now that perspective has changed.
"Now we see what they are doing, because the European Commission has a German chairman," Orban continued, referring to EU Commission President Ursula von der Leyen. "They failed with the sanctions, miscalculated and did not count to the end from a professional point of view," he added.
According to the PM, the EU doesn't have the courage to admit the fallacy of its sanctions policies against Russia amid the ongoing conflict in Ukraine. Orban noted, however, that Hungary lacked the strength to change the position of larger countries, meaning that sanctions on Moscow will likely continue despite their ineffectiveness.
Hungary, which relies heavily on Russian energy, has criticized EU leaders on several occasions for introducing "counterproductive" sanctions on Moscow. Budapest has repeatedly asked to scrap the "failed policy of Brussels" in order to stop Europe from "slowly bleeding." Hungary has also been one of the few Western states that have so far refused to send any weapons to Ukraine or train its troops.
"If it were up to us, there would not be a sanctions policy," Orban said last month. "It is not in our interest to permanently divide the European and Russian economies into two, so we are trying to save what can be saved from our economic cooperation with the Russians."
Hungary's relations with the EU have been particularly strenuous in recent months as Budapest has also clashed with several EU institutions on a number of issues, including LGBTQ rights and migration. Brussels, in turn, has accused Orban's conservative government of eroding the rule of law while Western establishment media outlets have treated him like an authoritarian leader that is too sympathetic to Russian President Vladimir Putin.
You can share this story on social media: