Elvis' daughter Lisa Marie Presley dies at 54
She passed away after suffering a medical emergency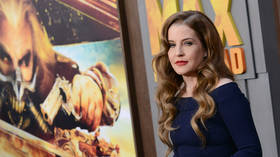 Singer-songwriter Lisa Marie Presley, the daughter and only child of Elvis Presley, died at the age of 54 on Thursday. The news came after Presley was rushed to the hospital after suffering a medical emergency.
"It is with a heavy heart that I must share the devastating news that my beautiful daughter Lisa Marie has left us," Priscilla Presley, Lisa Marie Presley's mother, said in a statement. "She was the most passionate, strong and loving woman I have ever known."
Lisa Marie Presley attended the Golden Globes on Tuesday, where Austin Butler won an award for playing her father in the 2022 biopic 'Elvis'. She was hospitalized two days later from her home in Calabasas, California, according to her mother.
Craig Little, a spokesman for the county's fire department, told reporters that paramedics were responding to a call about a woman in full cardiac arrest.
Presley was born in 1968 in Memphis, Tennessee. Following in her father's footsteps, she recorded three rock albums, the first of which, titled 'To Whom It May Concern', was released in 2003.
She was married to musician Danny Keough, pop star Michael Jackson, actor Nicolas Cage, and music producer Michael Lockwood. Presley appeared in Jackson's music video for 'You Are Not Alone' when they were married.
Presley had four children, including actress Riley Keough. Her son Benjamin Keough committed suicide at the age of 27 in 2020.
Many celebrities offered condolences to the Presley family. Actor Tom Hanks, who starred in the film 'Elvis', and his wife, actress Rita Wilson, called Presley's death "shocking."
"Tom and I had spent some time with the family during the Elvis movie promotional tour. Lisa Marie was so honest and direct, vulnerable, in a state of anticipation about the movie," Hanks and Wilson wrote.
You can share this story on social media: