High-level official reveals he wore Nazi uniform 
The premier of the most populous Australian state says the incident has caused him anxiety for years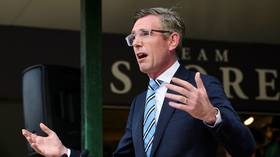 The leader of the Australian state of New South Wales, Dominic Perrottet, has confessed to wearing a Nazi uniform at a party celebrating his 21st birthday. The premier, who is now 40 years old, told a news conference on Thursday that he is "deeply ashamed" of what he did but stressed that he is not the "naive" man he used to be.
"At that age in my life, I just did not understand the gravity of what that uniform meant," said Perrottet, adding "who I am today is formed by the good things I've done in my life, not the mistakes I've made."
He also stated the incident has caused him anxiety for many years and that he has on numerous occasions considered opening up about it in public. The premier said he ultimately decided to make a public admission after a ministerial colleague warned him two days ago that people knew about the incident.
"I've grappled with it for some time and there were a number of times during my political career where I've thought of raising it, there's been certain moments and certain events where I've thought of raising it, and I didn't and I should have," he said.
Perrottet's public admission comes ahead of an upcoming election in the state, and some have speculated that he may have chosen to confess his transgression himself rather than having it revealed by his political opponents.
The premier, however, stressed that he is unaware if any photos of him in a Nazi uniform exist and insisted that his admission was not made to pre-empt the release of any such evidence.
Perrottet's revelation follows the release of Prince Harry's memoir 'Spare,' in which he recalled a 2005 "native and colonial" themed party to which he also wore a Nazi uniform. The Duke of Sussex claimed he was encouraged to do so by his brother Prince William and sister-in-law Kate Middleton and called it one of the "the biggest mistakes in his life."
You can share this story on social media: