Protesters crash panel on US defense  
Code Pink activists urged talks with Russia during an event featuring a hawkish Democratic lawmaker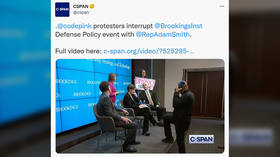 Pro-peace group Code Pink interrupted a panel discussion on Wednesday with Representative Adam Smith, a leading Democratic proponent of arming Ukraine. Smith was invited by the Washington-based think tank Brookings Institution to talk about US military policy.
Smith, the ranking member of his party on the House Armed Services Committee, explained his ideas for boosting US military capability during the panel. He urged mothballing large weapon systems that he believes to be obsolete and focusing on those required for the "modern fight." The US needs to apply "lessons that we are learning from the fighting in Ukraine," he said.
However, during the event members of the left-wing anti-war advocacy group Code Pink walked on to the stage to rebuke the administration of US President Joe Biden for pumping weapons into Ukraine and ignoring the path of negotiations. Such an approach increases the risk of nuclear war, the group's co-founder, Medea Benjamin, argued.
Democrats must endorse diplomacy and "not leave that to the extreme right of the Republican Party, like Marjorie Taylor Greene," the activist said. Greene is a vocal opponent of Biden's Ukraine policy, which she claims lacks accountability and fiscal responsibility.
"It's a shame that 30 Democrats, who sent a letter to Biden calling for negotiations were so pilloried by people like you in the Democratic Party, that they withdrew their letter after 24 hours," she remarked.
Benjamin was referring to a letter from October that encouraged pursuing peace talks and was signed by members of the Progressive Caucus. After pushback from pro-Kiev figures, the message was retracted and labeled a mistake. Smith denied "pillorying" the signatories.
As security removed the protesters from the premises, Smith said he wanted to respond to the sentiment and claimed that Russia was the party standing in the way of a negotiated peace in Ukraine.
"I think presenting arguments like that simply adds fuel to [Russian President Vladimir] Putin's fire and gives Russia the blank check to go ahead," he stated.
Russian Foreign Minister Sergey Lavrov previously said that Moscow and Kiev had been on the verge of signing a truce in early April on terms suggested by the Ukrainian government. The deal would have made Ukraine a neutral state, with Russia and other major nations offering it security guarantees in exchange. However, Ukraine made a U-turn on the proposal after what Russia describes as Kiev having been forbidden by the West to proceed.
You can share this story on social media: