EU requests compensation from Israel
A group of MEPs has demanded that Israel pay for the demolition of EU-funded Palestinian structures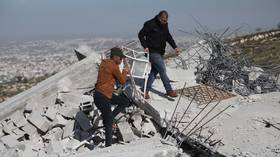 European Commissioner for Crisis Management Janez Lenarcic said in reply to lawmakers over the weekend that Brussels has repeatedly asked Israel to pay for demolished houses in the West Bank that were built using financial aid from the EU or its member states.
According to the Israeli newspaper Haaretz, Lenarcic's written statement followed a letter penned by 24 MEPs to the Crisis Management Commission, demanding that Israel compensate the European bloc for the loss of EU taxpayer money.
"In financial terms, Israel did not shoulder the consequences for the illegal demolitions and the violations of human rights," read the letter, according to Haaretz.
In his response, Lenarcic stated that the EU has consistently condemned "Israel's settlement policy and illegal actions taken in this context," adding that the bloc has on a number of occasions requested that Israel "return, or compensate for, EU-funded assets that have been demolished, dismantled or confiscated."
However, despite working to receive this compensation through diplomatic and political channels, the commissioner admitted that a "a list of possible options to secure compensation from Israel for EU funding lost in demolitions" has yet to come up for discussion in the Council of Europe.
"It is for the Council, acting by unanimity, to decide on the possible adoption of EU restrictive measures," Lenarcic concluded.
According to the United Nations Office for Coordination of Humanitarian Affairs (OCHA), in the first eight months of 2022, over 700 people were displaced after Israeli authorities demolished, seized, or forced others to demolish a total of 590 Palestinian-owned structures across the West Bank, including East Jerusalem. In July and August alone, Israel tore down some 202 structures, 29 of which had been provided as donor-funded humanitarian aid.
The report noted that 2022 figures showed a decline compared to the year before, when the Israeli authorities had demolished a total of 911 structures and displaced 1,209 people.
You can share this story on social media: