Switzerland blocking military shipments to Ukraine – EU member
The Alpine nation has repeatedly refused to allow the re-export of arms to Kiev, according to the Spanish defense minister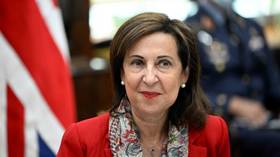 Switzerland is vetoing the delivery of certain Swiss-made war materials from Madrid to Kiev, Spanish Defense Minister Margarita Robles said on Tuesday. However, she did not provide further details as to what equipment would apply to the ban, local media reported.
Speaking at a meeting of Spanish ambassadors, Robles reiterated that Madrid would continue to send military equipment to Ukraine to help it in its fight against Russia. However, responding to a question asked by the nation's envoy to Bern, she stated that Switzerland was reluctant to greenlight shipments that require its approval.
"We understand, respect and accept neutrality, but we need some authorization for [sending] material from Switzerland, which it is not giving to us at this time," she said, as cited by El Mundo daily.
The minister also explained Spain's push to increase defense spending, arguing that the Ukraine conflict had shown that Spain lives in a situation of "absolute insecurity."
"Today, a missile can fly from Moscow to Madrid," she claimed.
The principle of neutrality has been the cornerstone of Switzerland's foreign policy for centuries now. It means that Bern cannot get involved in a conflict and cannot support any side militarily.
In line with these policies, in November, the Alpine nation rejected Germany's bid to allow the re-export of Swiss-made 35mm ammunition for Gepard anti-aircraft tanks to Ukraine. In June, Bern also turned down Denmark's request to provide Ukraine with 22 Swiss-made Piranha III infantry fighting vehicles.
However, that same month, Swiss authorities said shipments to European armaments companies containing locally-produced parts "should remain possible," even if they may end up in Ukraine.
Despite Switzerland's adamant stance on weapons exports, it has joined the sanctions the West has imposed on Russia over the Ukraine conflict, prompting an outcry from Moscow. Last summer, Russia's Foreign Ministry said the Alpine country "had lost its neutrality," making it unfit to act as a mediator representing Ukraine's diplomatic interests in Russia.
You can share this story on social media: