All US domestic flights grounded after software glitch
The Federal Aviation Administration (FAA) has reported a failure of the crucial Notice to Air Missions System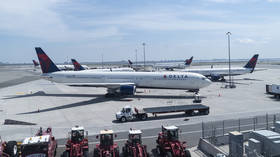 A software glitch in the US Federal Aviation Administration's (FAA) system, which is used to send essential information to aircraft, has prompted the regulator to halt all further domestic departures in the US.
The issue affected the Notice to Air Missions System (NOTAM) on Wednesday morning, the FAA said in a statement. This is used to communicate crucial data to air traffic control.
The regulator said the mishap was affecting all flights across the US and that its technical staff were performing validation checks and trying to reboot the system, but offered no indication of how long it would take.
Cleared Update No. 2 for all stakeholders: ⁰⁰The FAA is still working to fully restore the Notice to Air Missions system following an outage. ⁰⁰While some functions are beginning to come back on line, National Airspace System operations remain limited.

— The FAA ✈️ (@FAANews) January 11, 2023
Later in the day, the agency said it had ordered the suspension of domestic departures for several hours, as the system was gradually restoring functionality. The FAA stated that planes already in the sky were not at risk as a result of the NOTAM outage.
Serious issues with flights were previously reported by US media. FlightAware, a service tracking such events, reported more than 2,500 delays and over 300 cancellations of flights traveling to or from US airports.
Two hours after the initial report, the regulator announced that the ground stop had been lifted.
US Secretary of Transportation Pete Buttigieg briefed President Joe Biden about the outage, according to White House Press Secretary Karine Jean-Pierre. There is "no evidence of a cyberattack at this point," she added.
You can share this story on social media: