Several injured in knife attack at Paris train station
The attacker was "neutralized" by police, the Interior Minister says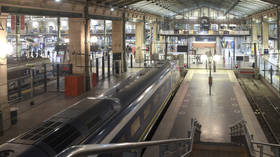 Several people were injured in a stabbing attack at the Gare du Nord train station in central Paris on Wednesday morning, French Interior Minister Gerald Darmanin has said.
The suspect was "quickly neutralized" by police, Darmanin wrote on Twitter, praising the officers for their "effective and courageous response."
Six people suffered minor injuries in the attack and were provided medical care on site, according to BFTV.
France Bleu has revealed more details of the incident, saying that the suspect, who reportedly spoke Arabic, began indiscriminately stabbing people at the station.
Police quickly arrived at the scene, and shots were fired after the man tried to assault one of the officers. The suspect was wounded and hospitalized in critical condition, according to the outlet.
Railway operator TER Hauts-de-France said the incident at Gare du Nord has led to disruptions in train schedules.
You can share this story on social media: