EU parliament fund invested in cluster munitions industry – media
The body's pension managers also bought shares in tobacco and mining firms, EUobserver reports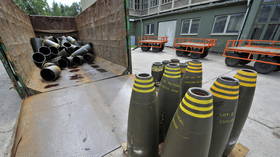 A heavily indebted pension fund serving the European Parliament has been found to have used taxpayer money to purchase shares in various arms, tobacco, mining and fossil fuel companies, EUobserver reported on Tuesday.
The news outlet claims to have obtained "a detailed breakdown" of the fund's investments between 1994 and 2010. According to the documents, MEPs held tens of thousands of shares in several arms manufacturers known for producing cluster munitions, which have been banned by the EU since 2008.
Those companies included US giants Raytheon, Honeywell International and Textron, all of which were known to produce the deadly weapons, considered dangerous to civilians.
All three firms claim to have ceased production of cluster munitions in recent years. Additionally, it is unclear if the fund still holds shares in any of them, as no recent investment information has been made available.
What is publicly known, however, is that the pension scheme has been bleeding money, and some fear the European Parliament may end up using as much as €400 million of taxpayer money to bail it out. According to experts, the fund is expected to go bust within the next three years as it continues to experience a sharp deficit due to the rapid increase in the number of MEPs reaching retirement age.
Several MEPs have insisted that the deficient fund should be allowed to go under, and that "not a cent" should go into bailing it out. In a letter to EU parliament president Roberta Metsola last year, several MEPs also warned that the fund posed "potential devastating reputational risks for the European Parliament."
The fund was initially set up in 1990 and was open to MEPs until 2009. For every €1,000 paid into the scheme by lawmakers, parliament contributed €2,000 of taxpayer money. Nearly 900 people are expected to draw a pension from the fund by 2024. The list of contributors and beneficiaries includes EU foreign policy chief Josep Borrell, French National Front founder Jean-Marie Le Pen and his daughter Marine Le Pen, as well as UKIP founder Nigel Farage.
You can share this story on social media: