Biden declares emergency in US state
Days of intense storms in California have left at least 12 people dead and hundreds of thousands of residents without power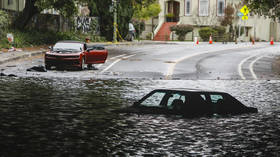 US President Joe Biden has authorized an emergency declaration for the state of California, which has been pounded by deadly winter storms for more than a week, resulting in flooding, widespread power outages and even fatalities.
Biden announced the decision on Monday, noting that federal assistance had been approved to respond to "severe winter storms, flooding, and mudslides" in California and to "lessen or avert the threat of a catastrophe" in the worst-affected areas. Disaster relief efforts will be coordinated under the Federal Emergency Management Agency (FEMA) and the Department of Homeland Security (DHS).
Local authorities and residents have shared images purporting to show the aftermath of more than a week of inclement weather, including significant flooding in urban areas and one potentially deadly rockslide along a roadway.
California Governor Gavin Newsom had requested a federal emergency declaration over the weekend. Though he had already made his own state-level disaster announcement, a presidential decree frees up additional resources from federal agencies.
At the time of Newsom's request, some 424,000 residents were without power and more than 20,000 required evacuation from their homes due to the extreme weather, according to Nancy Ward, director of the governor's Office of Emergency Services. Ward said that at least 12 Californians had been killed in flooding since December 31, or more fatalities than the last two wildfire seasons combined.
The storms may only worsen before they subside, with the National Weather Service forecasting a "relentless parade of cyclones" on the west coast in the coming days. "Round after round of heavy rain on saturated soils will produce considerable flood potential with rapid river rises, mudslides and burn scar flash floods or debris flows," the agency said in a recent bulletin.
As of Monday evening, more than 93,000 Californians remained without power, according to outage tracker poweroutage.us. It is unclear whether that figure will again spike with the coming downpour, though California's largest power operator, Pacific Gas and Electric, has said it has more than 4,000 workers attempting to restore electricity to homes and businesses, one of the largest emergency response efforts in the company's history.
You can share this story on social media: