Poll reveals how Turks feel about Russia
Almost three quarters of the people surveyed have said they have a positive view of the country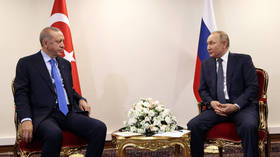 Turkish people overwhelmingly see Russia in a positive light and want their nation to have a good relationship with the country, a recent poll has indicated.
Almost two-thirds of those surveyed across 24 Turkish provinces at the end of last year asserted to pollster Gezici that Russia was friendly towards Türkiye while less than a quarter (24.2%) believed Russia to be hostile. The results were reported on Saturday by the TV channel Ulusal Kanal.
An overwhelming 72.8% of Turks said the two nations should have a good relationship, while 62.6% said Russia was making a positive contribution to the Turkish economy.
The news outlet suggested that the attitude contrasted to how Turks felt about the US, stating that the perception of Washington in the country took a turn for the worse after the attempted military coup in 2016.
"We can say that the people are more distant from the West and have more confidence in the Russians," Murat Gezici, the president of the polling agency, said, as quoted by Ulusal.
Türkiye joined NATO in 1952 and has the second-largest standing army among members, after the US. However, ties between the two nations have been worsening over the years. Among other things, Washington punished Ankara for its 2017 decision to buy Russian-made S-400 long-range anti-aircraft missiles. The US kicked Türkiye out of its F-35 fighter jet program in retaliation.
The rift was highlighted last year by Ankara's refusal to join Washington's drive to impose sanctions against Russia over the conflict in Ukraine, with the Turkish government choosing to play the role of mediator instead.
The predominant public opinion in Türkiye is in favor of the neutrality policy and also rejects Washington's claim that the Russian attack against its neighbor was unprovoked. A May survey by the consultancy MetroPOLL showed that just 33.7% of Turks blamed Moscow for the conflict, compared to 48.3% who pointed the finger at Washington and NATO.
Nevertheless, Turks remain supportive of the US-led bloc, according to the same poll, with almost 60% favoring their nation's continued membership in it.
You can share this story on social media: