Israel targets Palestinian foreign minister
The diplomat's permit was revoked in retaliation for asking the UN's International Court of Justice to opine on the Israeli occupation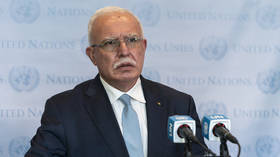 Israel's new conservative government has withdrawn the travel permit of Palestinian Foreign Minister Riyad al-Maliki as part of a series of steps taken to punish the occupied West Bank for seeking a legal opinion on its plight from the UN's highest court.
The travel pass was revoked on Sunday, according to Maliki, who said in a statement that he was returning from the inauguration of Brazilian President Luiz Inacio Lula da Silva when he got the news. Without his permit, Maliki will no longer be able to easily transit in and out of the West Bank. Instead, like other residents of the occupied territories, he'll presumably be subject to approval requirements and checkpoints. The foreign minister didn't state whether other Palestinian Authority officials had also lost their travel permits.
Israel's newly elected prime minister, Benjamin Netanyahu, announced punitive actions against the Palestinian Authority (PA) after a meeting of his cabinet on Thursday. Among those sanctions, he said, was "denying benefits to VIPs who are leading the political and legal war against Israel." He cited the PA's appeal last week to the UN's International Court of Justice (ICJ) for a ruling on Israel's occupation of Palestinian territories.
"The current government will not sit idly by in the face of this war and will respond as necessary," Netanyahu said.
Some $39 million of PA funds will also be transferred to a compensation program for Israeli victims of Palestinian terrorist attacks as part of the punitive measures. Additional funds will be confiscated equivalent to the amount that the PA paid last year to the families of militants who were killed or imprisoned, including those who were linked to attacks against Israelis.
A moratorium will also be introduced on Palestinian construction in Area C of the West Bank; and unspecified actions will be taken against groups in Judea and Samaria, which Netanyahu's administration sees as promoting violence or political and legal action against Israel.
The UN General Assembly voted late last month to seek an ICJ opinion on the legal consequences of Israel's occupation of Palestinian territories. ICJ rulings are binding, but it has no power to enforce them. Palestinian President Mahmoud Abbas lobbied for the UN resolution despite pressure from Washington not to push for an ICJ opinion.
You can share this story on social media: