One in four British troops 'dangerously' overweight – media
A veteran commander excoriated officials for their 'failure of leadership' regarding soldiers' weight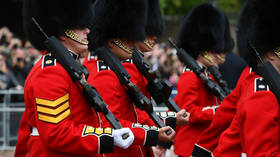 A quarter of all British soldiers are 'dangerously' overweight or obese, according to statistics seen by the Mail on Sunday, fueling a growing health crisis in the ranks. Nearly 40,000 of the 145,000 members of the UK military have been classified as overweight in the last five years.
The alarming statistic "represents a failure of leadership among those responsible for ensuring troops under their command remain fit and healthy and ready to fight," former British commander Col. Richard Kemp told the Mail.
"Every overweight serviceman or -woman became overweight while serving," the veteran, who led British troops in Afghanistan, continued. "Allowing soldiers' health to decline in this way is the same as neglecting a weapon system or combat vehicle to the extent it cannot function when needed."
The service has reportedly had to medically discharge some 5,200 overweight soldiers since 2010, including one 420-pound (191 kg) soldier let go after failing mandatory fitness tests. More than 800 of those dismissed weighed over 252 pounds (114 kg). However, a Ministry of Defense spokesperson cautioned that "personnel can have multiple causes listed in a medical discharge, so may not have been discharged specifically for weight related issues."
But the extra pounds can take a toll beyond simply reducing physical fitness. The ministry's statistics seen by the Mail reveal that over 1,100 servicemembers have developed type II diabetes, 1,113 have been diagnosed with high blood pressure, and 100 have heart disease. Since 2014, 850 soldiers have been prescribed diet pills, while 60 were given liposuction.
Former Army chief Lord Dannatt told the Mail that if the weight of "young overweight soldiers" could not be controlled, "they should be discharged," describing the "obesity and overweight issue" as "very much a chain of command matter."
"Rigorous enforcement of the physical fitness tests is essential," Dannatt continued, arguing that commanders were letting older soldiers off the hook despite putting on weight, as their roles became less active.
By the military's own Body Composition Measurement metric, which takes into account both the more commonly used Body Mass Index and waist measurement, nearly 40,000 troops are at risk of health issues due to their size, according to the Mail.
You can share this story on social media: