Ukraine running out of time – former US officials
Condoleezza Rice and Robert Gates think more weapons are the solution to Kiev's woes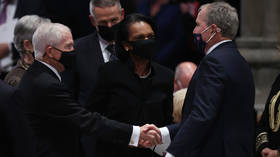 Former US Secretary of State Condoleezza Rice and former Defense Secretary Robert Gates have admitted that Ukraine's economy and military are almost completely reliant on bailouts from the West, and barring a dramatic turnaround, its chances of victory are slipping away.
Ukraine's "economy is in a shambles," the ex-diplomat and former Pentagon chief wrote in the Washington Post on Saturday.
The country's "military capability and economy are now dependent almost entirely on lifelines from the West," they continued, arguing that should Ukraine fail to mount a successful offensive in the near future, President Vladimir Zelensky will be pressured by the West to negotiate a ceasefire with Russian President Vladimir Putin – something the Ukrainian leader has repeatedly refused to consider.
With the frontline relatively static since autumn, Russian forces have ground down their Ukrainian opponents in fierce fighting near Bakhmut/Artyomovsk, with an American mercenary commander recently acknowledging that Ukraine is suffering "extraordinarily high casualties" in that sector, and Ukraine's ambassador to Canada, Vadim Pristaiko, describing his side's casualties as "huge" and "indigestible."
Kiev has publicly proclaimed that it plans a major offensive in the spring, but Rice and Gates wrote that Ukraine may have "weeks, not months" to stay in the fight.
To that end, they advocated sending the country more and heavier weapons. Although the US has already allocated more than $110 billion in military and economic aid to Ukraine since February, they said Washington won't send heavy tanks. Germany "and other allies" should fill this need instead, they argued.
The Biden administration announced on Friday that it would give Ukraine 50 Bradley infantry fighting vehicles – the most modern armor sent to Kiev so far – as part of a $3 billion weapons package. France also pledged a number of wheeled 'light tanks', and Germany promised 40 Marder infantry fighting vehicles.
Nevertheless, Kiev says it needs more. In an interview with The Economist last month, Ukrainian general Valery Zaluzhny said he would need 300 more tanks, up to 700 infantry fighting vehicles, and 500 howitzers to conduct offensive operations. This is more than the number of such vehicles in the entire British or German inventory.
Russia, meanwhile, has repeatedly insisted that "pumping" Ukraine with weapons will ultimately have no effect on the outcome of the conflict and will only serve to prolong the hostilities and lead to more bloodshed.
You can share this story on social media: