Macron's wife wanted 'phallus and golden balls' for Notre Dame – ex-minister
French politician Roselyne Bachelot claims the president was also looking for "a contemporary architectural gesture"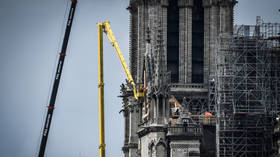 French First Lady Brigitte Macron suggested redesigning the iconic spire of Paris' Notre Dame cathedral after a 2019 fire to resemble gilded male genitalia, former culture minister Roselyne Bachelot has claimed in her memoir '682 Days – The Hypocrites' Ball', released on Thursday.
Just a few days after President Emmanuel Macron's administration allegedly lambasted her decision to have the fire-ravaged Notre Dame cathedral spire rebuilt as a replica of the old one, Bachelot was out at lunch with the president's wife when the First Lady showed her "a project topped with a sort of erect phallus with its base surrounded with golden balls," the book reveals.
The politician's reaction was not included in the excerpt of the 682-page tell-all tome posted to social media on Thursday.
Bachelot insisted from the beginning of the discussions on rebuilding the spire that it must be "built identically to respect the Venice Convention," she wrote. This displeased the president, who had wanted "a contemporary architectural gesture," reasoning that the spire hadn't been part of the original Notre-Dame cathedral.
"The Elysee is dreaming of an architectural gesture and accuses me of doing just as I please," she wrote, adding that she defended her choice to the administration and ultimately prevailed.
Macron's X-rated vision for the reconstruction of the spire was not the only weird one. British architect Lord Foster of Thames Bank proposed a "super-slender needle touching heaven's clouds," while others wanted to construct the whole thing out of glass or crystal, or top it with a greenhouse and beehives, or add a laser.
As culture minister, Bachelot was responsible for overseeing the repair of the beloved medieval landmark after it sustained heavy damage in the 2019 fire of mysterious origin. In July 2020, she confirmed that despite the president's announcement in the days following the fire of a "competition" soliciting designs for a replacement, "a broad consensus has emerged for the identical reconstruction of the spire."
French officials hope to reopen Notre-Dame in 2024 and complete the restoration the following year. The interior has already been partially restored, and construction on the roof and spire is set to begin this year.
You can share this story on social media: