Journalists detained over embarrassing leak for president
South Sudan's Salva Kiir apparently lost control of his bladder during a road-commissioning event in December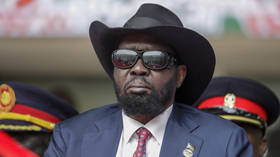 Six journalists have been detained in South Sudan over the circulation of a video purportedly showing President Salva Kiir urinating in his pants, the Committee to Protect Journalists has stated. The video, which went viral online, triggered debate about the 71-year-old leader's health.
Filmed at the commissioning of a road project last month, the video shows Kiir standing for the national anthem with the aid of a cane, as a dark stain spreads down the inside of his trouser leg. As Kiir looks down and notices the puddle forming around his feet, the camera pans away.
🔺The President of South~Sudan🇸🇸 urinates in his pants during the commissioning of a road project.🔻71 years old President of South~Sudan🇸🇸 Salvatore Kiir Mayardit wet himself during the anthem. The event where the embarrassing incident occurred was broadcast live. pic.twitter.com/pk8IHuWXps

— 👑Raja Barman.🦁💙🌞❤️⛳ (@RajaBar16891293) December 16, 2022
The clip was never broadcast on television, but spread on social media. Opposition figures and activists said the video was proof of Kiir's ill health, while Nigerian Senator Shelhu Sani was more charitable, suggesting the president may have been demonstrating "an extreme act of patriotism" by refusing to excuse himself during the anthem.
Six journalists with the state-run South Sudan Broadcasting Corporation were arrested on Thursday over the leaking of the clip, the Committee to Protect Journalists reported on Friday, citing anonymous sources. The South Sudan Union of Journalists also confirmed the detention, and called for a "speedy conclusion" to the investigation into their case.
While the union said the journalists are "suspected of having knowledge of the release of 'a certain footage' to the public," the South Sudanese government has not confirmed the reason for their detention.
Kiir has ruled South Sudan since 2011, when the country won its US-backed independence bid from Sudan. The country was mired in civil war and political infighting for its first decade of independence, with hundreds of thousands of people killed and more than a million civilians fleeing the country. Kiir has never held elections, although with the civil war halted by a 2020 peace agreement, a vote is scheduled for 2024.
You can share this story on social media: