EU nation to build fence on border with Türkiye
Greece is set to expand the barrier due to rampant illegal migration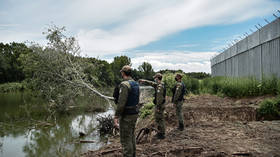 Greece is planning to build a new 140-km fence to cover its entire European border with neighboring Türkiye in an effort to contain the significant flows of illegal migrants, Minister of Citizen Protection Takis Theodorikakos has announced. Construction of the first 35-km span of the new fence is set to begin "immediately," the official told the broadcaster SKAI on Saturday.
"It is a final decision of the government to create a 140-kilometer fence on the Evros [River]," Theodorikakos stated.
Greece and Türkiye share an approximately 200-km common border in Europe that runs primarily along the Evros River, yet there is a stretch of dry land between the two countries. Greece already has concrete and barbed wire barrier installed at over 40km of the border, namely along the span near the Turkish city of Edirne. The fence was originally erected in 2012 and was extended in 2021.
The Evros River on its own has not proven to be a sufficiently challenging obstacle for illegal migrants, Theodorikakos noted, with the eponymous province remaining a hotspot for irregular crossings. "In Evros, the Greek police, with their deployment, have prevented the illegal invasion of the country by 256,000 illegal immigrants," the minister said without providing a time span for this "invasion."
Over the past year, the EU has seen the highest level of illegal migration since the 2015-2016 migrant crisis. According to the latest figures by Frontex, the bloc's border agency, some 308,000 "irregular entries" were detected across the external borders of the EU during the first 11 months of 2022, constituting a sharp 68% increase from the same period in 2021. The Western Balkan and Central Mediterranean routes have seen the most illegal migrant traffic over the past year, according to Frontex.
You can share this story on social media: