Man changes gender to win custody of kids
Arguing that Ecuador's legal system favors mothers, Rene Salinas Ramos decided to legally become a woman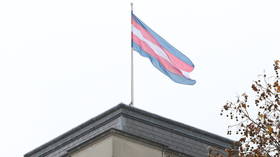 An Ecuadorian man has legally changed his gender in a bid to win custody of his children from a legal system that he says "punishes" fathers. Transgender activists responded with outrage.
Rene Salinas Ramos officially became a woman on December 30, he told La Voz del Tomebamba, an Ecuadorian newspaper. Salinas Ramos, who hasn't seen his two daughters in five months and claims that they live in an abusive environment with their mother, said that the decision to become a woman was born out of frustration with the court system.
"Being a father in this country, Ecuador, is punished and seen only as a provider," he said. "Now that I am a woman, I can be a mother and I am on an equal footing to fight for the parental authority of my daughters."
Salinas Ramos, who reportedly doesn't seek a medical transition into a woman, said that he wants "to give the love and protection that a mother can give her children."
Ecuadorians have been legally allowed to change their gender since 2015. Diane Rodriguez, a transgender politician and activist who campaigned for the 2015 law, told Vice News that Salinas Ramos was not following "the spirit of the law," and that swapping his gender likely won't aid his case.
"I understand that in his situation, in desperation, he chose to change the gender on the identity document," Rodriguez said. "But no, it won't have any effect."
The Ecuadorian Federation of LGBTI Organizations denounced Salinas Ramos, accusing him of "taking advantage of other people for parental authority." The group called on the court to make it clear that the man is not representative of transgender people, lest the law be tightened up to make transitioning more difficult.
Salinas Ramos said that his actions "are not against anyone in particular, but against the system." With his transition permanent in the eyes of the law, he said that a man making this change "is the greatest proof of love that he can give to his daughters."
You can share this story on social media: