CNN star linked to Biden spokeswoman leaves network
National correspondent Suzanne Malveaux has reportedly told colleagues that she's quitting to promote "social justice"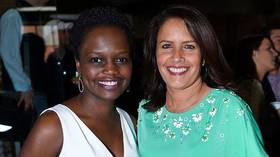 CNN star reporter Suzanne Malveaux has allegedly become the latest veteran staffer to leave the cable news network, announcing her departure in a memo to co-workers.
The national correspondent and former daytime anchor "made the heartfelt decision to put myself and my family first and to pursue my long-desired professional passions: using storytelling to promote wellness, resiliency and social justice," Malveaux said on Friday in the memo. The statement was first reported by media outlet Deadline.
Malveaux, 56, joined CNN in 2003 and worked as the network's White House correspondent for ten years. The network shifted her away from covering politics, Capitol Hill, or President Joe Biden's administration last May, after her partner, Karine Jean-Pierre, was named White House press secretary. She and Jean-Pierre, who was touted as the first black and openly lesbian press secretary, have an eight-year-old adopted daughter.
CNN has gone through a series of high-profile departures over the past 13 months, starting with the firing of anchor Chris Cuomo in December 2021. Others who have quit or been pushed out include media critic Brian Stelter, Pentagon correspondent Barbara Starr, disgraced legal analyst Jeffrey Toobin, and White House reporter John Harwood. A major round of layoffs in late November included anchors Martin Savidge and Robin Meade, as well as reporters Chris Cillizza, Alison Kosik and Alexandra Field.
Chris Licht was named CNN's new CEO last February, replacing Jeff Zucker. The former CBS News executive has reportedly sought to "right-size" the operation and restore CNN's reputation as a trusted news source amid a collapse in ratings. The network's average number of primetime viewers dropped 34% last year to 735,000. Viewership has plunged 59% since 2020.
Malveaux said she approached higher-ups last fall about "focusing on my family and possibly pursuing new opportunities." She said the network was supportive of her wishes. She finalized the decision to leave over the holidays, when she was infected with Covid-19 for a second time.
"There is nothing like being quarantined in your basement to help one gain some momentum from contemplating to actually exploring what lies ahead."
You can share this story on social media: