Trump nominated for US House speaker
Republican Matt Gaetz voted for the former president amid a historic fight for leader of the chamber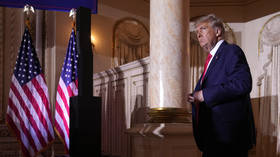 US Republican Matt Gaetz formally nominated ex-President Donald Trump to lead the House of Representatives on Thursday, as the members failed to elect a speaker for the 11th time in a row.
The Republicans narrowly retook control of the House during the midterm election in November.
However, the party has been struggling to replace Democrat Nancy Pelosi as speaker because 20 Republican legislators have refused to back Kevin McCarthy for the role, voting for other candidates instead. The fight for House speakership is now the longest in over 160 years, according to CNN.
"My vote for Speaker of the House today? Donald John Trump," Gaetz tweeted after nominating the 45th president during a roll call vote. The move was largely symbolic because, although the US Constitution does not specify if the speaker must hold a House seat, only sitting members have been elected for speakership in the past.
Gaetz also tweeted a photoshopped image of Trump holding the speaker's gavel. Speaking to Laura Ingraham on Fox News, he affirmed that he has "zero trust" in McCarthy. "I resent the extent to which he utilizes the lobbyists and special interests to dictate how political decisions, policy decisions, and leadership decisions are made," Gaetz said.
Trump himself endorsed McCarthy's candidacy on Wednesday, urging House Republicans to "vote for Kevin, close the deal," and "not turn a great triumph into a giant and embarrassing defeat." Gaetz and fellow anti-McCarthy Republicans, however, rejected his plea.
McCarthy remained confident on Thursday that he would eventually secure the post. "So if this takes a little longer and it doesn't meet your deadline, that's OK," he told reporters after the House adjourned.
You can share this story on social media: