Hong Kong drops controversial pet ban
The city outlawed the import of hamsters and other small mammals last year over Covid-19 concerns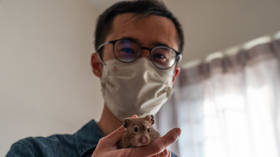 Hong Kong is set to repeal a year-long ban on importing hamsters for sale later this month. While the foreign pets will require a negative Covid-19 test before they can be sold, those who test positive will merely be quarantined "until the test result is satisfactory."
The move was announced by a spokesman for the city's Agriculture, Fisheries, and Conservation Department in a statement on Wednesday. The testing is necessary, the official said, because studies have proven the rodents are not just susceptible to the virus, but that they can easily pass it on to humans.
Foreign hamsters — along with all other small mammals of overseas origin — were banned last January after nearly a dozen hamsters imported from the Netherlands were found to be infected with the Delta variant. The variant had not been seen in humans for months and was believed to have left the city until a 23-year-old worker at Little Boss pet shop tested positive and allegedly infected a customer.
Officials ended up culling 2,500 of the furry creatures, plus a few rabbits and chinchillas, in response to the discovery, which happened while Hong Kong was attempting to implement a strict Zero Covid strategy. Residents were also ordered to turn in their pet hamsters for testing, but only 113 families reportedly did so, and just one of those pets tested positive for the virus.
While hamsters remained banned as the panic faded, pet stores were allowed to resume importing non-hamster mammals in May.
The reversal of the hamster ban comes amid a wider opening-up for Hong Kong, which has lifted hotel quarantines, bar and restaurant bans, and PCR test requirements for new arrivals. However, it reportedly plans to retain its mask mandate, citing concern about influenza as well as Covid-19. Travel to and from mainland China is expected to re-open later this week as Beijing rolls back its own Zero-Covid policies.
You can share this story on social media: