US and Germany preparing new step in arms for Ukraine – media
Together with Washington and Paris, Berlin is reportedly gearing up to donate infantry fighting vehicles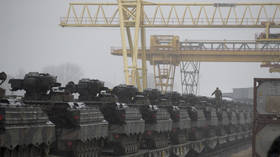 Germany is considering supplying Ukraine with Marder infantry fighting vehicles, the Sueddeutsche Zeitung newspaper reported on Thursday. According to the report, the decision has been coordinated with the US and France.
Citing "government circles," the newspaper reported that there will be a "qualitative step-up" in Germany's arms supply to Ukraine, which could be announced as early as this week. A similar announcement is expected by the US, the paper added.
This increase in support will take the form of an unspecified number of Marder infantry fighting vehicles (IFVs), the report claimed, adding that Germany has been discussing this plan with the US and France for several weeks.
France on Wednesday announced that it would send an undisclosed number of its own AMX-10 armored fighting vehicles to Ukraine, while US President Joe Biden said that evening that the White House is considering donating American-made Bradley Fighting Vehicles.
The Marders, AMX-10s, and Bradleys are all broadly similar in weight, coming in between 18 and 40 tons depending on the model. Designed in West Germany in the 1960s, the Marder is the oldest of the three, and after several life-cycle extensions is currently being replaced by the Puma.
Despite repeated pleas from Kiev, no NATO country has sent Western-designed main battle tanks to Ukraine, and until recently none had sent vehicles such as the Marder, AMX-10 or Bradley, which are sometimes referred to as "light tanks."
Within the German government, a split has emerged on exactly how much firepower the country should hand over to Ukraine. Chancellor Olaf Scholz has previously stated that Germany would not turn over its Marders without similar decisions being made by its NATO allies. On the issue of the Leopard tanks, Scholz has given no indication that he plans to send these to Ukraine, and his Social Democratic Party colleague Michael Mueller told reporters this week that delivering the tanks could trigger "an escalation that none of us want to imagine."
The Green Party, however, has repeatedly called for escalation. Green defense politician Sara Nanni told the Sueddeutsche Zeitung on Thursday that Berlin must "make available to Ukraine what is feasible," including Leopard tanks, while Foreign Minister Annalena Baerbock, also a Green, declared last year that there are "no taboos" over the kind of weapons Germany will provide.
You can share this story on social media: