Man chews on victim's face in berserk attack
Bizarre details of the assault on an elderly man emerged after interrogation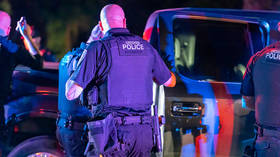 A 25-year-old Oregon resident is in custody after an attack on an elderly man, with police saying the victim was left with gruesome injuries after his assailant chewed off one of his ears and a large portion of his face.
The Gresham Police Department detailed the harrowing incident on Tuesday, saying that officers responded to a call about a "possible stabbing" just after 2:00am local time near a train platform in Gresham, where witnesses said they saw a "significant amount of blood." When they arrived, the suspect was "still on top of the victim, continuing the attack," but was quickly subdued and arrested.
Turning their attention to the victim – a 78-year-old-man who was not named by police – officers discovered horrific wounds, including some "so severe that responders could see the victim's skull." One of the man's ears was also missing, apparently gnawed off by the perpetrator.
During the interrogation, the attacker later told police he believed the elderly man was a "robot" who was trying to kill him, and that he was able to determine this by the victim's "scent," according to local media. He reportedly admitted to using various drugs, including alcohol, cannabis, and fentanyl, a powerful synthetic opioid.
While police said the suspect initially provided a false name, he was later identified as Koryn Kraemer, 25, who had recently moved to the Portland area from Georgia and now faces a second-degree assault charge. Investigators have not suggested any motive for the vicious assault, and said they would attempt to determine "whether illicit drugs played any part in the suspect's actions."
Kraemer's first court appearance came on Wednesday, when he pleaded not guilty to the charge. He will be held without bail until his next hearing.
The case shares similarities with another cannibalistic attack in Florida in 2012 that garnered national headlines, in which assailant Rudy Eugene maimed his victim by biting off parts of his face. Dubbed 'the Miami Zombie', Eugene was initially believed to be in the grips of drug-induced psychosis at the time of the attack, with multiple media outlets suggesting he was a user of "bath salts," though toxicology reports later failed to detect traces of the drug in his system.
You can share this story on social media: