Serbia issues grim prediction for 2023
President Aleksandar Vucic has warned of food and energy shortages due to anti-Russia sanctions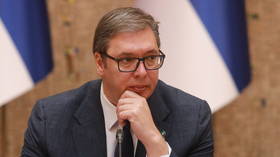 The US, EU and China face serious economic struggles in 2023, which is shaping up to be more difficult than the previous year, Serbian President Aleksandar Vucic warned on Wednesday. Belgrade is trying to stock up on basic food supplies, as the world is likely to face shortages soon, he added.
"I expect 2023 to be much more difficult than 2022," Vucic told reporters in Belgrade. The US federal reserve has raised interest rates, "China's growth rate has slowed, the EU is approaching a recession," he added. "We're a part of that chain, so that will impact us as well."
Serbia has taken precautions to stock up on natural gas and coal, and should have some left over by the spring, Vucic said, but he is working with Hungary to "secure supplies right away for the next winter, which will be worse."
His government has also secured 20 months worth of wheat, Vucic said, stressing the importance of food security. "We have to stock up, there will be less and less food around the world," he said. "We have to have salt, sugar, wheat and corn. For the immediate future, we do."
Vucic has previously warned of the coming hardships due to the conflict in Ukraine. "This will last for a long while, and I expect the next winter and even the one beyond to be far worse than this one," he said in November.
On Wednesday, Vucic also answered questions about the ongoing tensions with the ethnic Albanian government in the breakaway province of Kosovo and military expenditures, but returned to economic matters time and again.
Serbia has the second-lowest energy prices in Europe, the president said, without specifying which country was in the lead. He also said that 2022 GDP growth was almost 2.5% and unemployment was the lowest ever at 8.9%. All of this was achieved without joining the EU embargo against Russia, despite the pressure from Brussels.
"They say I must sanction Russia. Well, thanks a lot for interfering in our internal affairs like that," Vucic said, sarcastically.
Addressing the claim by a German newspaper that only a firm EU could "tame" him, and that only such a "tame" Serbia could join the bloc, Vucic told reporters a family anecdote.
"I took my daughter to the circus some 15 years ago," he said. "I saw elephants and tigers there. But I've never seen a wolf in the circus, big or little. Let that be a lesson to them," added the president, whose surname translates to 'little wolf'.
You can share this story on social media: