Beijing threatens retaliation for Covid discrimination
New pandemic restrictions on travelers from China are motivated by politics over science, the Foreign Ministry has said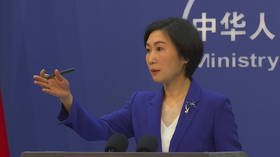 Beijing has vowed to take countermeasures after the US and other countries tightened their Covid-19 rules for those traveling from China. The new restrictions follow the country's decision to ease its own health policies at home.
Asked about the pandemic measures during a Tuesday press briefing, Foreign Ministry spokesperson Mao Ning noted that while many countries had responded "warmly" to China's relaxed Covid rules, others reacted with "disproportionate" and "unacceptable" restrictions.
"We stand ready to step up communication with the rest of the international community and work together to prevail over Covid. Meanwhile, we do not believe the entry restriction measures some countries have taken against China are science-based," she said. "We firmly reject using Covid measures for political purposes and will take corresponding measures in response to varying situations based on the principle of reciprocity."
Australia became one of the latest to adopt new measures against travelers from China on Sunday, requiring negative Covid-19 tests within 48 hours prior to their departure beginning on January 5. Opposition MPs have condemned the move, citing recommendations from Chief Medical Officer Paul Kelly, who argued there was no convincing "public health rationale" for the new restrictions.
Other countries, such as the US, Italy, France, and Britain, have imposed similar rules in recent days, while the EU's European Commission has said an "overwhelming majority" of the bloc's 27 members would like to follow suit. Testing and quarantine requirements have also been introduced elsewhere in Asia, including Japan, India, and Malaysia.
During a daily press briefing in Washington on Tuesday, White House spokesperson Karine Jean-Pierre was asked to comment on Beijing's "sharp rhetoric" regarding the restrictions. She insisted that there was "no cause for retaliation" and that countries were merely taking "prudent health measures to protect their citizens," claiming the policies are based on "public health and science."
The Chinese government did not specify how it might retaliate to the wave of new Covid measures, and has yet to announce any new travel rules of its own, but previously accused Western nations of attempting to "sabotage China's three years of Covid-19 control efforts and attack the country's system." After multiple rounds of strict lockdowns and its longstanding zero-Covid policy, Beijing dropped many of its pandemic restrictions last month and is pressing ahead with a long-awaited reopening.
You can share this story on social media: