MPs sentenced for attacking pregnant colleague
Two lawmakers in Senegal received six-month prison terms for their "unparliamentary" conduct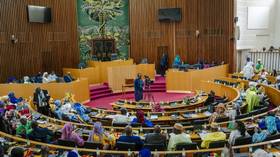 Two Senegalese opposition lawmakers were sentenced to jail on Monday for a violent assault on a pregnant colleague during a sitting of parliament last month. The two MPs denied responsibility, despite the attack being captured on video.
In addition to six months jail time, Mamadou Niang and Massata Samb of the PUR party were ordered to pay a combined five million CFA francs ($8,200) in damages to the victim, Amy Ndiaye of the ruling United in Hope coalition.
Samb slapped Ndiaye in the face during a budget debate at the beginning of December, allegedly after she made a disparaging remark about an influential Muslim leader. Ndiaye responded by arming herself with an upturned office chair and advancing on Samb, before Niang kicked her in the stomach.
❗*Chaos in Senegal Parliament after MP Slaps Female Colleague*The brawl began when opposition member Massata Samb walked over and slapped Amy Ndiaye Gniby - an MP of the ruling coalition - during a budget presentation, TV footage showed. pic.twitter.com/9Y074xSVTS

— Daniel Marven (@danielmarven) December 2, 2022
Ndiaye was hospitalized, and her lawyers claimed the kick put her in danger of losing her baby. While she has since been discharged, her attorney told France's AFP news agency that she "remains in an extremely difficult situation."
Niang and Samb denied any wrongdoing. A member of their legal team told AFP that they plan to appeal the ruling.
Senegal has been led by President Macky Sall since 2012. Sall's party, however, almost suffered defeat in legislative elections in July, forcing its members to cobble together a coalition to stay in power. Sall has refused to say whether he'll seek a third term in 2024, a move that opposition lawmakers say would be illegal.
You can share this story on social media: