Musk teases 'Fauci Files' release
The Twitter CEO previously accused the former US Covid czar of lying under oath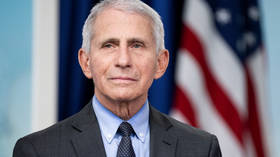 Elon Musk hinted on Sunday that he is about to release the next batch of his "Twitter Files," which will focus on Dr. Anthony Fauci, who led the US response to the Covid-19 pandemic.
The Twitter CEO posted a New Year's message on the social media platform on Sunday, saying: "Hope you're having a great day 1 2023! One thing's for sure, it won't be boring." When one user responded to the post, saying she was "waiting for #FauciFiles," Musk replied: "Later this week."
The billionaire has been long critical of Fauci, who was the face of the US pandemic response under both the Trump and Biden administrations. Until recently, he also held the position of director of the National Institute of Allergy and Infectious Diseases (NIAID).
Last month, Musk went so far as to suggest that the doctor should be prosecuted for allegedly lying under oath about the funding of gain-of-function research at the Wuhan lab in China. Gain-of-function research can involve taking a virus which could infect humans and making it more transmissible.
In May 2021, after being pressed on the issue by Republican lawmakers, Fauci said NIAID and the National Institutes of Health "categorically" reject ever funding such research.
The Intercept published documents in September showing that the two institutions had funneled funds to the nonprofit EcoHealth Alliance, which invested in experiments with bat coronaviruses in Wuhan, the city where Covid-19 originated.
However, the White House scrambled to defend Fauci, describing Musk's comments as "disgusting" and "divorced from reality." The doctor's "work on infectious disease, from HIV/AIDS to Covid, has saved countless lives," it said.
After Musk completed his $44 billion deal to buy the social media company in October, he released several packages of so-called "Twitter Files," which outlined the platform's previous censorship policies.
The documents, in particular, shed light on Twitter's alleged attempts to suppress information damaging Biden's election campaign. They also detailed the social media platform's apparent collusion with the FBI to remove content which the US government deemed undesirable.
You can share this story on social media: