Poll reveals most Brits want new Brexit vote
Most UK citizens believe their country is faring worse than it was as an EU member, a Savanta survey shows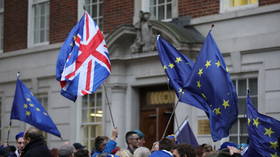 More than two thirds of Britons want a vote on rejoining the EU, according to a new poll published by The Independent on Sunday. More than half of respondents described the decision to leave the bloc as wrong.
The UK officially quit the EU on 31 January 2020 following the 2016 Brexit referendum, with the "leave" vote winning by a slim margin.
The survey, conducted for the newspaper by the research company Savanta, showed 65% of respondents want a new vote, 10% more than last year.
The public, however, are divided over when such a referendum should take place, with 22% saying it should be held now, and 24% believing it should happen within the next five years. Less popular opinions are within six to ten years (11%) and in more than 20 years (4%).
Meanwhile, the number of those opposing a second vote on EU membership has declined from 32% to 24%.
The survey also suggests that Brits hold a more negative view on the consequences of Brexit, with 54% of respondents saying leaving the EU was a bad decision, up from 46% last year.
That view stems from the widely held belief that the UK's economy and global clout have been damaged by the landmark decision to exit the EU.
A 56% majority of respondents say leaving the bloc has made the economy worse, up from 44% last year. Half also think the UK's influence on the international stage has diminished, compared to just 39% last year. In addition, respondents take a dim view of the changes that Brexit has brought on the country's ability to control its own borders, with 50% saying it has worsened.
The poll comes after a December study by the Centre for European Reform (CER), which estimated the UK's losses due to Brexit at £33 billion ($39.7 billion).
Brexit has added 6% to UK food prices, and has cost British workers about 2.6% of their wages in real terms, Swati Dhingra, an external member of the Bank of England's Monetary Policy Committee, explained in November. The departure from the EU, according to Dhingra, has also caused a reduction in business investment and overall trade.
You can share this story on social media: