Man strikes cops with machete in New York
Three police officers were injured in the attack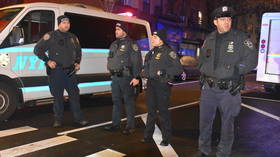 A machete-wielding man attacked police officers on Saturday evening not far from Times Square in New York City, where New Year's Eve celebrations were taking place. The suspect was shot in the shoulder and taken to hospital, police said.
Speaking at a press conference in the early hours of Sunday, New York City police commissioner Keechant Sewell said the incident took place at around 10 pm just outside the security screening area established for the festivities. The man first attempted to strike an officer "over the head with a machete," and then proceeded to hit two of his colleagues on the head, Sewell added.
One of the officers suffered a "laceration to the head" as a result, while the other, a rookie policeman in his first day on the job, sustained a skull fracture and a large laceration.
Another officer was hit by a police car when he tried to move the barricades to give his colleagues access to the assailant, Fox News reported.
New York City Mayor Eric Adams, a former NYPD cop, spoke to the media and praised the officers for their professional handling of the situation.
According to the city authorities, all three officers are currently in hospital in a stable condition.
The 19-year-old suspect, identified as Trevor Bickford, approached the officers for no apparent reason, with the motive remaining unclear, police said.
"I want to be clear that the FBI, through the Joint Terrorism Task Force, is working very closely with [NYPD] to determine the nature of this attack," the FBI's assistant director in charge, Michael Driscoll, said at the news conference.
"We will run every lead to ground," the official pledged, adding that "this is very much an ongoing investigation so our ability to talk about specifics is limited."
Officials also assured New Yorkers that there was no active threat, as the suspect is believed to have acted alone.
You can share this story on social media: