Mystery disease kills children in Afghanistan – officials
Dozens of people have been infected by the "suspicious" pathogen, Taliban authorities say as cited by local media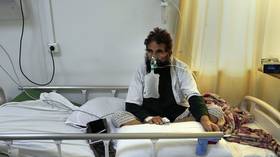 An unknown pathogen has infected more than 80 people and killed two children in the Afghan province of Zabul, Taliban authorities said. The disease causes intense fever and bleeding from the mouth and nose.
Taliban public health chief Abdul Hakim Hakimi said that clinics in the Shahjoy district of the province have seen a sharp increase in the numbers of people suffering from the "suspicious" disease in recent weeks, Afghanistan's Hasht-e Subh Daily reported on Tuesday.
Two patients died of the illness over the last week, the paper added, with TOLONews noting that both were children.
Afghanistan is one of the world's least developed countries, and its public healthcare system was almost entirely funded by foreign donors until the Taliban seized power following the US withdrawal in 2021. The World Health Organization now considers Afghanistan's health system "on the brink of collapse," reporting that fewer than one in five state clinics are still open and diseases like polio are endemic.
Zabul Province was previously hit by an unknown disease this summer, with at least 200 people in Shahjoy coming down with cholera-like symptoms in May. Doctors blamed the outbreak on poor hygiene. An outbreak of pertussis, or whooping cough, infected 300 people in Zabul in late November, claiming the lives of two children.
You can share this story on social media: