Syria reports new Israeli missile attack
Two people were wounded in the strikes south of Damascus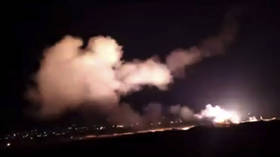 Multiple missiles have targeted the vicinity of the Syrian capital, state news agency SANA said early Tuesday, blaming the Israeli military.
A volley of missiles was fired from the occupied Golan Heights, SANA reported, citing a military source. The attack happened at 12:30am local time. Though Syrian air defenses were activated, the attack caused "some material damage" and injured two Syrian soldiers, the agency added.
Unconfirmed reports from the ground spoke of explosions at Damascus International Airport and the nearby town of Sayyida Zaynab, south of Damascus proper.
While the Israeli government has not commented on the missile strike, residents of Galilee posted videos on social media in which fighter jets could be heard flying overhead around the time of the attack.
Tuesday's strike is the first major missile attack since the mid-November bombing of the Shayrat military airport near Homs, when at least two soldiers were killed. The base was rumored to have been used by Iranian forces, which are helping Damascus fight against various jihadist groups as well as Islamic State (IS, formerly ISIS) terrorists.
Citing a pre-emptive right to self-defense against Iran, Israel has carried out "hundreds" of bombing and missile strikes against Syria since 2011. They are rarely acknowledged by the Israel Defense Forces (IDF), in line with their long-standing policy of not discussing operations outside the country. Syria has protested the strikes as a violation of its sovereignty, to no avail.
You can share this story on social media: