Poland calls emergency security meeting after claim about missiles
There are conflicting reports about whether the reported explosion was caused by Russian or Ukrainian rockets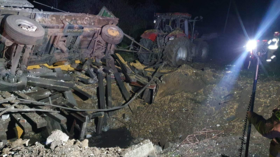 Polish Prime Minister Mateusz Morawiecki has called an emergency meeting of the government's national security and defense committee amid reports of a deadly strike near the nation's border with Ukraine.
Poland is understood to have scrambled fighter jets in the wake of the reports that two people had been killed in an "explosion" allegedly caused by a missile strike. The Polish military and prosecutors have arrived at the scene of the blast, Visegrad 24 reports.
Russia's Mash Telegram channel has published a photo of what it said is a fragment from an S-300 defence system missile. This Soviet-era equipment is used by Ukraine.
Meanwhile, other sources have pointed the finger at Russia. Moscow fired dozens of missiles at Ukraine earlier on Wednesday
Earlier, Polish media reported blasts had rocked the town of Przewodow, which is located in the Lublin region, not far from the border with Ukraine. A grain drier facility was reportedly hit, killing at least two people, local media said.
"The reasons for this incident are not known at the moment," local fire service spokesman, Senior Captain Marcin Lebiedowicz, told Radio Lublin. He confirmed that there had been casualties and said his agency had received "a report of an explosion."
The Polish government spokesman Piotr Mueller also called on the media and the public "not to publish unconfirmed information."
AP reported, citing a "senior US intelligence official," that Russian missiles had crossed into Poland, killing two people. Mueller did not comment on the reports, only referring to the incident as a "crisis situation."
Neither Kiev nor Moscow have commented on the incident so far.
You can share this story on social media: