Yellen explains US position on Anti-Russia sanctions
Treasury Secretary warns that Washington may continue to punish Moscow even after Ukraine conflict ends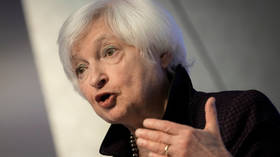 Some of the anti-Russia sanctions that were predicated on the Ukraine crisis may remain in force even after the conflict ends, a top official in President Joe Biden's administration has told the Wall Street Journal.
"We would probably feel, given what's happened, that probably some sanctions should stay in place," US Treasury Secretary Janet Yellen said on Sunday in an interview on the sidelines of the G20 summit in Indonesia. She claimed that Russia hasn't made any effort to seek peace talks "on any terms that are acceptable to Ukraine."
Yellen's comments suggest that Washington may undertake a long-term campaign to "squeeze" the Russian economy, rather than merely trying to bring the Ukraine conflict to an end, the Wall Street Journal said. Any peace deal would involve a review of the penalties that the US and its allies have imposed on Moscow, Yellen said, adding, "I suppose in the context of some peace agreement, adjustment of sanctions is possible and could be appropriate."
Some US lawmakers have called the crisis a "proxy war," saying it was an opportunity to invest in the destruction of Russia's military without losing American troops. Anti-Russia sanctions could be viewed similarly. Russian President Vladimir Putin suggested in March that the sanctions were "akin to a declaration of war."
The Biden administration is reportedly leaning toward a diplomatic solution to the conflict as winter approaches. Biden's national security adviser, Jake Sullivan, has urged Ukrainian President Vladimir Zelensky to be "realistic" about his negotiating demands, including possible reconsideration of his stated aim to regain control of Crimea, the Wall Street Journal reported on Sunday, citing two European diplomats who were briefed on the discussions.
Yellen has led an effort for G7 nations to impose a price cap on Russia's seaborne oil exports, starting on December 5. Washington is reportedly looking to avoid strict enforcement of the cap as it seeks to reduce Russia's oil revenue without prompting Moscow to take its crude off the market, which would likely cause prices to surge.
"It's hard to know what Russia's response is going to be," Yellen said. "I don't think that they can really afford to shut a lot of oil in. They need the revenue."
You can share this story on social media: