Explosion rocks central Istanbul
The blast occurred on the main pedestrian street in Türkiye's largest city, multiple casualties have been reported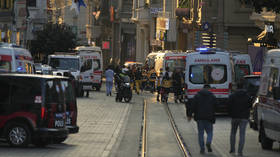 A deadly explosion occurred on Istanbul's iconic Istiklal Avenue, a busy pedestrian street in the historic heart of the city, on Sunday.
The incident prompted a heavy security response, with police cordoning off the area and multiple ambulances have been reported at the scene. Security forces reportedly evacuated civilians from a nearby block.
Istanbul Governor Ali Yerlikaya confirmed on Twitter that the explosion caused fatalities and injuries. Shortly after, Yerlikaya provided an update, stating that according to preliminary information, four people were killed and a further 38 wounded in the explosion. Later, the official tally was revised to six killed and 81 injured in the blast.
Footage circulating online, apparently shot moments after the blast, shows multiple people lying motionless in the street amid debris.
Istanbul Chief Public Prosecutor's Office has opened a terrorist probe into the blast, local media have reported. Separately, the prosecutors have also launched a probe into "provocative posts" on social media in relation to the explosion.
The Turkish Broadcasting Authority (RTÜK) has urged the population and media to rely only on official information about the blast. "We are following the developments closely. Please do not rely on unverified information, let's have information from reliable sources. Let's not spread false information unknowingly," RTÜK said in a statement.
Taksim'de patlama meydana geldi. Polis ikinci patlama olacağı şüphesiyle alanı boşaltıyor. Patlamada yaşamını yitirenlerin olduğu belirtiliyor. pic.twitter.com/LWyDLGyyYK

— Gazete Patika (@PatikaGazete) November 13, 2022
Shortly after the incident, a court in Istanbul issued a broadcast ban on images of the explosion, applying to all news and social networking websites.
You can share this story on social media: