7 out of 10 Americans think they're political losers - poll
Republicans and Democrats alike believe their political rivals are winning on the issues that matter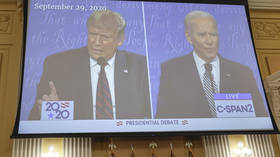 Nearly three quarters of Americans – 72% – believe their political side is losing more often than it is winning on the issues that are important to them, according to a Pew Research poll published on Monday. Less than a quarter – 24% – think their camp is prevailing more often than not.
Of the two 'sides,' the Right has lost the most confidence in its political heft – 81% of Republicans and Republican-leaning independents said they feel their side loses more often than it wins, compared to just 29% who held that view in February 2020, when former President Donald Trump was still in office.
But while Republicans can blame their pessimism on the loss of the presidency and nearly the Senate during the last election, the reason for the Democrats' malaise – fully two thirds (66%) of party voters and Democrat-leaning independents believe their side is defeated more often than it wins – is less obvious. However, exit polls in 2020 showed most Biden backers voted against then-President Donald Trump rather than for Biden, perhaps making them less invested in his victory. Furthermore, the figure did decline from a high of 80% who felt they were losing during the Trump years.
Moderate Democrats were the most likely of all groups polled to believe they were winning, with 34% taking that view compared to 29% for liberals, 21% for moderate Republicans, and a mere 15% for those further to the right.
The same poll, which was conducted once under President Barack Obama, three times under Trump, and twice now under Biden, reveals that overall more Americans felt like their side was winning in February 2020 (41%) than at any other time in the past six years. Monday's poll represented the most pessimistic moment during that period.
Another recent poll revealed just how unenthusiastic both Republicans and Democrats are about their parties' potential nominees for the 2024 presidential election – Trump and Biden, respectively. More than two-thirds of voters wanted to see Biden retire, while over half felt the same about Trump, though their reasons varied depending on their political affiliation and other factors. A hypothetical matchup between the unpopular septuagenarians would see Trump narrowly edge out Biden, but pollster Mark Penn, who conducted last month's survey, suggested there would be a "virtual voter revolt" in the event of a 2020 rematch.
You can share this story on social media: