UK defense secretary predicts if Russia will use nukes
It is "highly unlikely" Putin will use such weapons in the Ukraine conflict, Ben Wallace has said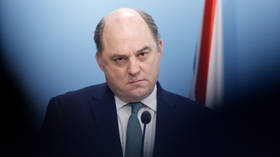 UK Secretary of Defense Ben Wallace said he does not believe Russian President Vladimir Putin will resort to using tactical nuclear weapons in the Ukraine conflict, PA Media reported on Sunday.
Speaking at a Conservative party conference fringe event organized by the think tank Onward, Wallace responded to Putin's comments from earlier this month in which he said Russia would use "all the means at [its] disposal" if the country's territorial integrity were threatened. Wallace said the prospect of Putin launching nukes against Kiev's forces was "highly unlikely."
Even though Russia's nuclear doctrine does provide for the use of nuclear weapons in certain instances, such a move would prompt a strong reaction from Moscow's allies in India and China, he reasoned.
"Putin was given a very clear sense of what is acceptable and unacceptable" in meetings with the Indian and Chinese leadership, Wallace said, according to PA.
He also claimed that Putin was "totally irrational" and that the Russian leader would be "deeply unhappy" to learn of some of the countries that had "secretly" been helping Britain in its military support to Ukraine, the Telegraph reported.
Former CIA chief David Petraeus recently warned that if Moscow decided to launch tactical nukes in Ukraine, Washington would lead a NATO effort to "take out every Russian conventional force that we can see and identify" in Ukraine and Crimea and also "every [Russian] ship in the Black Sea."
In addition to Putin's own comments, former Russian President Dmitry Medvedev has also warned that Moscow would use any weapons it sees fit in order to protect its borders, people and sovereignty. He insisted that "retired idiots with generals' stripes" should not attempt to intimidate Moscow by claiming NATO would attack Crimea.
"Hypersonic [missiles] are sure to hit targets in Europe and the US much faster," Medvedev warned, adding that "the Western establishment and NATO citizens need to understand that Russia has chosen its own path" and there is "no way back."
You can share this story on social media: