Poland formally demands $1.2 trillion from Germany
Warsaw wants Berlin to negotiate a "final settlement" on the consequences of Adolf Hitler's aggression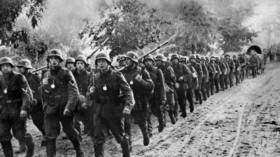 Polish Foreign Minister Zbigniew Rau signed a diplomatic note to Germany on Monday that finalizes demands for compensation for the damages from the Nazi invasion and occupation during World War II.
Warsaw is seeking $1.2 trillion, but the claim has been flatly rejected by Berlin.
Rau said the two countries should take "immediate steps towards a permanent, comprehensive and final legal and material settlement on the issue of the consequences of the German aggression and occupation in 1939-1945." He added that the measures would close the painful chapters of history and help improve bilateral relations.
"This is a historic day for all of Poland, a dream of generations of Polish citizens who passed away with a feeling of injustice," said Arkadiusz Mularczyk, a member of Poland's parliament who led a team that presented a report on the country's war losses last month.
The Seijm, the lower house of the Polish parliament, voted in September to demand $1.2 trillion in damages from Berlin. Foreign Ministry spokesman Lukasz Jasina told reporters that Rau would raise the issue of reparations with his German counterpart Annalena Baerbock during her visit to Warsaw on Tuesday.
The German government rebuffed compensation demands at the time, arguing that Warsaw waived the right to reparations under a 1953 deal with East Germany, and that the issue was definitively settled under a 1990 treaty on German reunification, which was signed by West and East Germany, as well as the US, Soviet Union, Britain and France.
Poland, meanwhile, insists that the 1953 waiver was signed under pressure from Moscow, and that it was barred from participating in the 1990 negotiations.
You can share this story on social media: