US encounters record illegal migrant influx – media
Officials reportedly documented thousands of daily migrant encounters at the US-Mexico border in September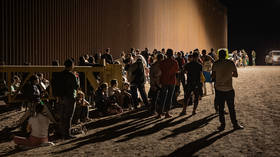 More illegal immigrants than ever are pouring into the US via its border with Mexico, according to data from the Department of Homeland Security, cited by the Washington Free Beacon this week.

The documents appear to show that last month was the worst September in history for migrant crossings. Between 7,300 and 7,500 migrants crossed the border every day during the month, according to US Customs and Border Protection (CBP).
The preliminary numbers from the CBP indicate between 219,000 and 225,000 migrants crossed the border from Mexico in September, according to the Washington Free Beacon. Either figure would break last year's standing record of 192,000 illegal crossings.
"These record-breaking numbers we're seeing at the border have become the new normal," a senior DHS official told the Washington Free Beacon on Friday, questioning how much further the situation would be allowed to deteriorate before action was taken.
The entirety of 2022 has been a record-breaking year for illegal immigration. By mid-August, the number of undocumented arrivals had surpassed two million, according to Fox News, a significant increase over last year's 1.7 million.
This year also set records for illegal drug trafficking across the US-Mexico border, with over 12,000 pounds of fentanyl – the opioid driving the country's overdose epidemic – seized by the CBP, according to a memo circulating in the Senate. Largely due to the rise of fentanyl in the US' drug supply, overdoses have become the leading cause of death for Americans between the ages of 18 and 45. This has brought the country's average life expectancy down to its lowest point since 1996.
The Biden administration has come under fire for its perceived failure to secure the southern border. The president's reversal of Trump-era policies aimed at curtailing unchecked immigration has seen border crossings surge under his watch, spiking from 72,000 in December 2020, Trump's last month in office, to 173,000 in March 2021.
The presidents of Guatemala and El Salvador have laid the blame for their citizens streaming across the Mexican border at the US president's feet.
The White House has attempted to revise its public stance on illegal immigration as Americans grow increasingly alarmed with the flood of new arrivals. Vice President Kamala Harris traveled to Guatemala to tell those preparing to make the voyage "don't come" after avoiding the border for over a year since being named responsible for it.
However, the administration's policies continue to send mixed messages. Rather than address the grievances of Republican governors who condemn dumping buses and planes full of illegals in their states, Biden's team has accused them of crimes against humanity for shipping the migrants to Democrat-run cities instead. The administration was even found to be funding legal aid for immigrants fighting deportation, according to a Fox News investigation.
You can share this story on social media: