Pope appeals to Putin and Zelensky
The pontiff has called on Kiev and Moscow to declare an immediate ceasefire and negotiate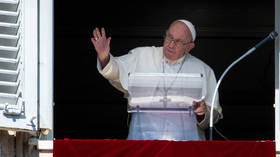 Ukrainian President Vladimir Zelensky and his Russian counterpart, Vladimir Putin, should declare a truce and return to the negotiating table, Pope Francis said in an appeal to the two leaders on Sunday. He warned that further escalation could lead to the deployment of nuclear weapons, with catastrophic consequences.
According to the translated transcript published by Vatican News, the Pope described the Ukraine conflict as a "terrible and inconceivable wound to humanity," to which there is no apparent end in sight.
"Certain actions can never be justified, never," he went on, stopping short, however, of pointing the finger of blame at either side directly.
Arguing that "war is never a solution," Pope Francis called for an "immediate ceasefire" and urged the warring sides to negotiate "solutions that are not imposed by force, but consensual, just and stable." He also emphasized the importance of respect for the sovereignty and territorial integrity of each country, as well as the rights of minorities.
According to the Pope, the continuation of the conflict could lead to a "nuclear escalation" which would likely inflict catastrophic consequences not only on the parties involved, but the whole world.
Addressing Putin, Pope Francis urged him to "stop this spiral of violence and death," while calling on the Ukrainian president to "be open to serious proposals for peace." He also asked that other countries do what they can to bring an end to the war, without allowing themselves to be dragged into the conflict.
The Pope's appeal came days after Zelensky posted a message on Telegram on Friday, saying that Kiev will not negotiate with Moscow as long as Putin remains in power. The comment came on the day that the Russian president signed treaties paving the way for the inclusion of the two Donbass republics and two former Ukrainian regions into the Russian Federation, following referendums in which the people in these regions voted overwhelmingly in favor of splitting from Kiev and joining Russia in late September. Ukraine and its Western backers dismissed the referendums as a "sham" and slammed Moscow for what they called a violation of Ukraine's territorial integrity.
You can share this story on social media: