Taiwan trip was 'totally worth it' – Pelosi
The US house speaker insists she had "overwhelming bipartisan support" for her controversial visit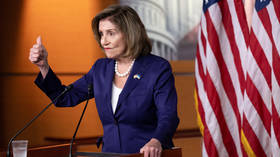 US House of Representatives Speaker Nancy Pelosi has stated that she has no regrets about her recent controversial trip to Taiwan and described it as "totally worth it" in an interview with the Today show on Tuesday.
The 82-year-old politician insisted that she had "overwhelming bipartisan support" for the visit and that she and her delegation were very well-received by the Taiwanese government and its people.
However, she stated that China's position on her trip was irrelevant, and insisted that China would "not be allowed to isolate Taiwan" or dictate who can and cannot visit the island.
"What the Chinese are doing is what they usually do," the speaker noted about Beijing's response to the incident, adding that Chinese President Xi Xinping was acting like "a bully because of his own insecurities."
There was "nothing disruptive" about the visit, Pelosi said, stating that the trip was in line with the US' policy of maintaining the status quo. However, she also insisted that it was important to let China know that Washington would support Taipei under the Taiwan Relations Act while simultaneously adhering to the 'One China' policy.
The speaker noted that another bipartisan US delegation visited Taipei a few months ago, but "nobody said a word" back then, going on to suggest that there was "something wrong with this picture," and that the controversy may have had to do with her being a woman.
When asked whether the "symbolic visit" undermines ongoing attempts by the White House to work with China to tackle geopolitical and climate issues, Pelosi stated that the trip was "very substantial to us, for us to listen to the people in the region about our full agenda." She further stressed that it was important to let Taiwan know the US would not abandon it out of fear that "China might act up."
Pelosi's trip last week, which made her the highest-ranking US official to visit Taiwan since 1997, prompted a strong reaction from Beijing, which launched "unprecedented" military exercises and live-fire drills in six maritime areas around Taiwan. Beijing has also sanctioned Pelosi and her family, introduced trade restrictions on Taipei and cut diplomatic interactions with the US on a number of military and civilian issues.
China considers Taiwan an inalienable part of its territory and views visits such as Pelosi's as an attack on its sovereignty and a violation of the 'One China' principle, under which most countries refrain from diplomatic recognition of Taiwan. Despite officially recognizing Beijing as the sole legitimate authority in China since 1979, the US maintains strong unofficial ties with the island of 23.5 million, frequently selling weapons to Taipei and supporting its push for sovereignty.
You can share this story on social media: