Canada can't track weapons it sent to Ukraine – media
Meanwhile, Russia has warned that Western arms have been trafficked from Ukraine as far as the Middle East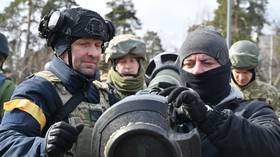 The Canadian government is not taking part in NATO discussions on tracking weapons shipments to Ukraine and, according to a report in the Ottawa Citizen on Monday, it "has no idea" where its arms deliveries to Kiev's forces have actually ended up.
Unnamed Western officials told the Financial Times last week that multiple NATO and EU member states are seeking to establish an arms-tracking mechanism to prevent weapons bound for the Ukrainian military from ending up on the black market. Canada is not taking part in these discussions, Canadian military spokesman Dan Le Bouthillier told the Ottawa Citizen on Monday.
Several defense sources told the paper that Canada currently has no idea where the military aid that it has sent to Ukraine has ended up.
Since Russia launched its military operation in Ukraine in February, Canada has given Vladimir Zelensky's military some $386 million worth of weapons, including anti-tank missiles, rifles, mortars, grenade launchers and armored vehicles.
Yet once these weapons cross the Ukrainian border from Poland, they essentially disappear. "From that moment we go blank on their location and we have no idea where they go, where they are used or even if they stay in the country," a Western official told the Financial Times.
For all of its intelligence work in Ukraine, Washington doesn't have a better idea, with a US intelligence source telling CNN in April that it has "almost zero" idea what happens to these arms, describing the shipments as dropping "into a big black hole."
Meanwhile, Europol claimed in April that weapons were being trafficked out of Ukraine and into the hands of organized crime groups in the EU. The Russian government has warned that foreign weapons have been sent to Ukraine, only to turn up in the Middle East shortly afterwards.
An investigation by RT last month found online marketplaces where sophisticated Western hardware – such as Javelin and NLAW anti-tank systems or Phoenix Ghost and Switchblade explosive drones – was being sold for pennies on the dollar. The sellers told RT's reporters that some of these weapons could be delivered to Poland at an extra charge. However, it is not possible to verify whether these sellers actually had the weapons in stock, as scams are commonplace on 'dark web' marketplaces.
Currently, Canada can only take Ukraine's word that its weapons aren't ending up in the wrong hands. Defense Minister Anita Anand told lawmakers in April that she couldn't provide details on her country's arms deliveries to Ukraine, but added that the Ukrainian military signed a declaration assuring her that Canadian weapons would not be transferred to any other organization.
Despite concern among NATO members and reports from Russia, Europol and also Interpol, Kiev insists that nothing untoward is happening. "Information that Ukraine is becoming a major hub for arms smuggling does not correspond to reality," Yury Sak, an adviser to Ukraine's defense minister told the Financial Times.
"Any movement of weaponry either into Ukraine or out of Ukraine…is very closely monitored and supervised both by Ukraine and our international partners," he continued, before claiming that reports to the contrary "could be part of Russia's information war to discourage international partners from providing Ukraine with weaponry that is necessary for our victory," despite the fact that these reports have come from some of the West's top officials and law enforcement agencies.
You can share this story on social media: