Elon Musk's father makes sperm donation claim
Errol Musk, 76, says his semen could be used to create 'a new generation of Elons'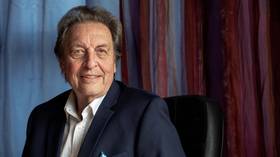 Elon Musk's father claims that he's been asked to donate sperm to an unnamed organization that seeks to create "a new generation of Elons", according to an article published by The Sun on Monday.
Errol Musk, 76, told the British tabloid that he had been approached by an unnamed South American company which planned to use his sperm to impregnate high-class women.
"I've got a company in Colombia who want me to donate sperm to impregnate high-class Colombian women because they say, 'Why go to Elon when they can go to the actual person who created Elon?'" Errol Musk was quoted as saying.
The South African national said he has not been offered any payment for a donation, but that he could receive other benefits for being a sperm donor, such as first-class travel, five-star hotel accommodation and other perks.
When asked by The Sun if he would be willing to give away his sperm for free without charging for it, Musk replied: "Well, why not?"
In a previous interview with the outlet, Musk senior revealed that he had recently fathered a second child with his 34-year-old stepdaughter Jana Bezuidenhout. He also stated that he would be willing to have even more kids if he could, as he believes that "the only thing we are on Earth for is to reproduce."
Errol Musk had his first three children Elon, Kimbal and Tosca with his first wife Maye Musk. After that he was married to Heide Bezuidenhout for 18 years and helped raise her young daughter Jana. He and his wife had two daughters – Rose and Alexandra – before splitting up.
Musk later fathered two children with his stepdaughter Jana, who is 42 years his junior, potentially exposing himself to charges of incest, which is illegal in South Africa. However, he claimed the relationship was not incestuous, arguing that Jana was "no longer" his stepdaughter after he divorced her mother.
The Tesla CEO's father also told the Sun that several women have falsely claimed to have borne his children, dismissing such people as "opportunists."
"There was a period in Johannesburg in the eighties that I was going out with different women every night. I had plenty of dates," he said. "So it's quite conceivable that one of them could actually come back and say, this is your child. It's possible. But I haven't had anything genuine presented to me. But I've got a lot of people claiming."
You can share this story on social media: