UK national dies in DPR captivity
The Donetsk People's Republic ombudsman has revealed captured "British mercenary" Paul Urey died of chronic illnesses on Sunday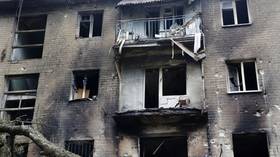 British national Paul Urey – who had been diagnosed with chronic diseases and was suffering from stress – died while in the custody of the Donetsk People's Republic (DPR) last Sunday, its ombudsman, Darya Morozova, announced on Friday.
According to the official, Urey had been fighting for Ukraine as a "mercenary" before being captured by the DPR's forces. British media, citing the man's relatives, claimed he was an aid worker.
Morozova noted that during the first medical checkup following Urey's capture in late April "a number of chronic diseases" were identified, including "insulin-dependent diabetes, respiratory system and kidney impairment and several cardiovascular diseases."
"Considering the diagnosis and stress, he passed away on July 10," the official explained.
She emphasized that all necessary medical treatment had been provided to the captive by the DPR authorities.
According to the official, DPR representatives had notified the British authorities, international organizations and media of Urey's capture, but "no reaction from Great Britain had been forthcoming."
The official pointed out that London "had ignored even the mere possibility of conducting talks on his return as part of a prisoner swap." The DPR ombudsman added that Urey's home country had allegedly failed to provide the medicine he needed via the International Committee of the Red Cross.
Morozova claims the UK national was a "career soldier," with tours in Afghanistan, Iraq and Libya under his belt. She went on to say that Urey had been leading combat operations, as well as "training mercenaries" for the Ukrainian military.
The 45-year-old was captured in late April while trying to pass through a DPR checkpoint, the ombudsman added.
Days after Urey went missing, The Guardian newspaper reported on Urey's disappearance, citing his mother, who insisted he was a "humanitarian aid volunteer in Ukraine."
She, however, at least partly confirmed the DPR authorities' later reports about the man's health conditions. The woman explained at the time that her "son Paul is also type 1 diabetic and needs his insulin."
In early May, Sky News cited the UK government's Foreign and Commonwealth Office as saying that it was "still trying to find out information about Mr Urey and Mr Healy's detentions." Dylan Healy, 21, from Cambridgeshire, was allegedly captured along with Urey.
You can share this story on social media: