Independence Day gunman eyed another attack – police
Robert Crimo 'seriously contemplated' carrying out an attack in Madison, Wisconsin, before he was arrested by Illinois police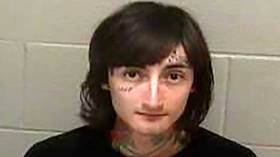 US Independence Day mass shooter Robert Crimo "seriously contemplated" a second attack, police said on Wednesday. Ultimately, the gunman decided that he "hadn't put enough thought" into it.
Crimo was charged on Tuesday with seven counts of first-degree murder and ordered held without bond on Wednesday. Two days earlier, he was arrested after an hours-long manhunt, which began when he allegedly opened fire from a rooftop upon a packed 4th of July parade in Highland Park, Illinois.
At a press conference on Wednesday, Lake County Major Crimes Task Force spokesman Chris Covelli said that during the manhunt Crimo drove to nearby Madison, Wisconsin, where he "seriously contemplated" attacking another Independence Day celebration.
Crimo, who Covelli said had a firearm and around 60 rounds of ammunition in the car with him, decided not to follow through as he "hadn't put enough thought or research into it."
The shooter is believed to have spent several weeks planning the Highland Park attack. After firing 70 shots at the parade and discarding his weapon, police say that he escaped the scene dressed in women's clothes and fled to his mother's house, where he took her car and evaded law enforcement. He was eventually stopped and captured, five miles from the scene of the attack.
Crimo was known to police, which had responded to a call by a family member in 2019 saying that the then-teenager had a knife collection and "was going to kill everyone." None of his family members filed a formal complaint, however, and Covelli said on Tuesday that officers had "no probable cause" to arrest the young man.
Described as a "rapper, singer, songwriter, actor, and director" on his IMDB page, Crimo performed under the name Awake the Rapper. Many of his videos, which have since been removed from YouTube, reportedly included violent imagery and references to school shootings, though relatives claim he showed no signs of being violent himself.
Despite the fact that officers had confiscated knives from Crimo, he was still given a gun permit, which his father co-signed for. Covelli said on Tuesday that "there was insufficient basis to establish a clear and present danger and deny" his permit application, and that the rifle he used to shoot up the parade was purchased legally in Illinois, a state with some of the US' strictest gun laws, including stringent background checks.
Prosecutors will likely apply "dozens" of additional charges to Crimo, Lake County State's Attorney Eric Rinehart said on Tuesday. As of Wednesday, Covelli stated that police have still not ascertained a motive behind the slayings.
You can share this story on social media: