Independence Day shooting suspect arrested
Police have detained a 22yo 'person of interest' in the Highland Park, Illinois mass shooting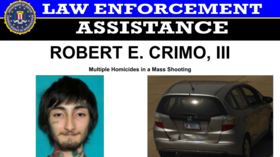 The authorities have apprehended a suspected gunman in the Highland Park, Illinois mass shooting, in which at least six people were killed and dozens injured during an Independence Day parade on Monday.
The suspect's vehicle was spotted by a police officer around 6:30pm, and following a "brief pursuit," he was taken into custody "without incident," the authorities confirmed on Monday evening, around nine hours after the shooting.
Local police and the FBI earlier identified 22-year-old Robert E. Crimo III as the main 'person of interest' in the attack, and cautioned he should be considered armed and dangerous. The authorities believe there was only one shooter, but have yet to press any charges against the detained man.
The gunman opened fire at the Independence Day parade from the rooftop of a commercial building around 10:15am, injuring dozens and sending hundreds, including families with children, to flee in panic. Five people were killed at the scene, while another victim died at a hospital.
In a statement following the incident, President Joe Biden said he and First Lady Jill Biden were "shocked by the senseless gun violence," praising the first responders and law enforcement on the scene, and promising that he "will not give up fighting the epidemic of gun violence."
You can share this story on social media: