NATO adopts new Strategic Concept directed against Russia
Approving the document is one of the main goals of the ongoing summit of the bloc's leaders in Madrid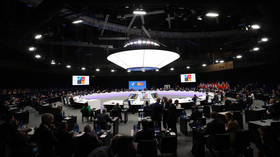 The leaders of NATO member states have approved the organization's new Strategic Concept, on Wednesday, its Secretary General Jens Stoltenberg announced on Twitter. The key document outlines the US-led bloc's response to what members perceive as an increasing threat coming from Russia.
The policy blueprint was agreed during a two-day summit in the Spanish capital of Madrid.
NATO blasted Russia for attacking Ukraine, claiming that the move "has shattered peace and gravely altered our security environment." It claimed that a "strong, independent Ukraine" was vital for the stability of NATO members and accused Moscow of showing a "pattern … of aggressive actions" against the wider transatlantic community.
"We want to live in a world where sovereignty, territorial integrity, human rights and international law are respected and where each country can choose its own path, free from aggression, coercion or subversion," the organization claimed.
While calling Russia the most significant and direct threat to its interests, NATO said "authoritarian actors" in general were challenging its positions. In particular, China was criticized for allegedly using "its economic leverage to create strategic dependencies and enhance its influence."
"The deepening strategic partnership between the People's Republic of China and the Russian Federation and their mutually reinforcing attempts to undercut the rules-based international order run counter to our values and interests," the document said.
NATO leaders called the bloc "unique, essential and indispensable" and pledged to work together to secure its technological edge and cohesion in the face of adversaries.
You can share this story on social media: