Germany spied on like during Cold War – intelligence chief
The head of the Federal Office for the Protection of the Constitution has also warned of an increased risk of sabotage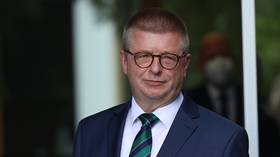 Germany is being spied on at least as much as during the Cold War, the head of the country's domestic intelligence agency has claimed. He put the growing level of espionage down to souring relations between the West and Russia over the conflict in Ukraine.
Thomas Haldenwang, the president of Germany's Federal Office for the Protection of the Constitution (BfV), made the warning on Thursday during a conference in Berlin.
According to local media, the official said that "today, we assess the level of espionage against Germany at least on a par with the Cold War – if not significantly higher."
Haldenwang also spoke of an increased risk of sabotage in the country, as relations between Berlin and Moscow have deteriorated dramatically since Russia launched its military offensive against Ukraine.
The BfV chief predicted that "in a world of open hostilities and drastic sanctions, the inhibition threshold for espionage, sabotage and illegitimate influence will continue to fall." According to Germany's Tagesspiegel newspaper, Haldenwang also claimed there's a new "system competition" emerging between democracies and authoritarian states.
Russian intelligence services allegedly working in Germany are using "diverse influence actors, which besides intelligence service agents also include think-tanks or journalists," the official said.
Echoing Haldenwang's assessment, Germany's Interior Minister Nancy Faeser also warned that the "threat to our security through the new war in Europe is real." According to reports, she said Germany could expect espionage and cyberattacks as well as "influence campaigns by foreign powers, that aim to destabilize our democracy through propaganda, lies and targeted disinformation."
In early April, Germany expelled 40 Russian diplomats suspected of having links to Russia's spy agency. A number of other European countries have shown Russian diplomats the door under similar pretexts since late February, when the Kremlin launched its military campaign against Ukraine.
Moscow has consistently denied that it was using its embassies as a front for spying activities, and responded with tit-for-tat expulsions of Western diplomats.
Also in April, the German media reported that an officer in the German army reserve had been charged with spying for Russia. The Federal Prosecutor's Office accused a person named Ralph G. of passing information to Russian intelligence between 2014 and 2020.
The man had allegedly been providing his Russian handlers with "personal data of high ranking members of the Bundeswehr" as well as from the business world.
According to prosecutors, "in return for his services, the accused received invitations to events organized by the Russian government agencies."
Another case of suspected Russian spying in Germany made the headlines in mid-February, with the Federal Prosecutor's Office bringing espionage charges against a suspect named Ilnur N. The Russian-born man had been working at the Augsburg Innovation Park in Bavaria, which is home to the German Aerospace Center, and had allegedly shared sensitive information with his Russian handler on new materials developed for space travel.
You can share this story on social media: