Jailed ex-US marine exchanged for Russian pilot
The swap occurred on Wednesday as a result of a long negotiation process, the Russian Foreign Ministry says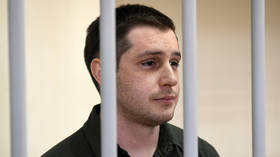 US national Trevor Reed, sentenced to nine years' jail in Russia in 2020, has been exchanged for pilot Konstantin Yaroshenko, who had been serving a 20-year sentence in a US prison since 2010, the Foreign Ministry, in Moscow, announced on Wednesday.
Diplomats told journalists that the swap was the result of a "lengthy negotiation process."
The exchange, which took place in Turkey, looked like a scene from a spy movie, Trevor's father, Joey Reed, told US media.
"He said it was like a movie – they walked past each other like in a spy swap," Joey Reed said. "Our understanding is the next time Trevor steps off the plane he will be in America."
US President Joe Biden said that the "negotiations that allowed us to bring Trevor home required difficult decisions" which he does "not take lightly." In a White House statement released on Wednesday he also stressed that his government would continue its efforts to bring home other American nationals imprisoned in Russia.
US Secretary of State Antony Blinken tweeted that Washington was grateful to its "partners for their cooperation," which helped the swap to take place.
An unnamed US official told a CBS News journalist that the prisoner exchange between Washington and Moscow was not a sign of broader diplomatic engagement with Russia amid its military campaign in Ukraine.
The 30-year-old American national, who previously served in the US Marine Corps, was detained on August 16, 2019 in Moscow for drunk and disorderly behavior in a public place. According to Russian authorities, Reed resisted arrest and assaulted two officers while in a police car.
On July 30, 2020, a court in Moscow found the US national guilty of endangering the "life and health" of law enforcement personnel, and sentenced him to nine years behind bars.
Reed professed his innocence throughout the trial, and during his time in prison insisted that he had no recollection of the events of that day as he was drunk at the time. While behind bars, the former US marine allegedly went on a hunger strike twice and claimed he had sustained injuries while incarcerated.
His parents, who met with US President Joe Biden in late March, claimed Reed had contracted tuberculosis while incarcerated. Russia's Federal Penitentiary Service, however, denied he had contracted TB, describing his health as "satisfactory".
In the case of Konstantin Yaroshenko, 53, Russia had sought his return for years. He was detained in Monrovia, the capital of Liberia in West Africa on May 28, 2010. The Russian pilot was accused of preparing to ship several large hauls of cocaine to West Africa, which were then allegedly supposed to be split in smaller batches and delivered to New York. He was handed over to US Drug Enforcement Administration (DEA) agents days later, and then secretly moved to the US in violation of international law.
On September 7, 2011, a court in New York found Yaroshenko guilty of "conspiring to import cocaine into the United States," and sentenced him to 20 years in jail.
Russian authorities maintained his innocence and repeatedly complained about the harsh conditions and lack of medical care he was subjected to in the US prison.
During his trial, Yaroshenko pointed out that US authorities had failed to present ironclad evidence to convict him. Moreover, the pilot claimed that he had been tortured by Liberian security services at the behest of DEA agents.
While serving time in the US jail, Yaroshenko repeatedly complained that he had been beaten and accused the prison administration of denying him medical help.
According to Yaroshenko and his wife, his health dramatically deteriorated while in US custody. However, an appeal lodged in 2012 was turned down a year later, as were the numerous clemency appeals sent over the years by the inmate and his wife to American Presidents Trump and Biden.
Yaroshenko himself said that he had lost trust in the US judiciary system, claiming that his case was politically motivated. Speaking to Russian journalists in 2016, he said that in America "you'd better forget about democracy and human rights," as evidenced by his case.
Soon after Yaroshenko's arrest and extradition to the US, Russia's Ministry of Justice mounted a campaign to free him, or at least let him serve the rest of his sentence in Russia, petitioning Washington to transfer him home. Back in 2019, Moscow also offered a prisoner swap with the US.
You can share this story on social media: