Trump endorses Dr. Oz
Oprah's TV doc is running for the US Senate seat vacated by a Pennsylvania Republican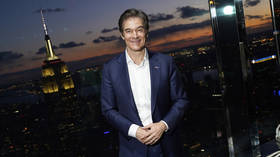 Donald Trump has endorsed TV personality and cardiac surgeon Doctor Mehmet Oz for a Senate seat in Pennsylvania, his spokesperson announced on Saturday ahead of a rally for the ex-US president in North Carolina.
"The Great Commonwealth of Pennsylvania has a tremendous opportunity to Save America by electing the brilliant and well-known Dr. Mehmet Oz for the United States Senate," the statement, posted to Twitter, reads. "This is all about winning elections in order to stop the Radical Left maniacs from destroying our country."
Trump elaborated on his endorsement during the rally, praising Oz's Harvard education, "tremendous career" as a heart surgeon, and stage presence. "When you're on television for 18 years, that's like a poll. That means people like you," Trump said.
The 61-year-old medic, who hosted the eponymous 'Dr. Oz Show' for 13 seasons and was a regular guest on daytime television programs, left his show in January to run for the Senate seat left vacant following the retirement of Republican Senator Pat Toomey. Toomey sealed his political fate when he voted to convict Trump in the president's impeachment trial over supposedly inciting an insurrection in response to the 2020 election results. The majority of the party remained loyal to Trump, however, leaving the senator with little political support, and he ultimately opted not to run again.
Trump praised Oz's Republican bona fides, noting the doctor was "Pro-Life, very strong on Crime, the Border, Election Fraud, our Great Military and our Vets, Tax Cuts, and will always fight for and support our under-siege Second Amendment." He also suggested Oz would have the kind of broad appeal necessary to win the election, arguing his TV presence would bring in voters from cities like Philadelphia and Pittsburgh, and his daytime talk show ubiquity would attract women, two groups Republican candidates sometimes struggle to reach.
While Oz arguably owes his fame to his stint as the resident doctor on Oprah Winfrey's daytime talk program, he reportedly asked Winfrey to stay out of the campaign, warning that she might otherwise get "hurt." Oz has attracted a fair share of controversy over the course of his career, occasionally butting heads with Big Pharma and the GMO food lobby to the point where several prominent physicians banded together to attempt to block his appointment to Columbia University's faculty. However, the school sided with the celebrity doctor, appointing him director of its Integrative Medicine Center.
His campaign website lays on the medical metaphors thickly, describing "America's heartbeat" as being "in code red in need of a defibrillator to shock it back to life." Oz claims to have been motivated to get into politics by "witnessing our nation's failings of Covid," noting that many of the pandemic deaths were "preventable" and referencing the institutional shutdown of dissenting medical opinions.
You can share this story on social media: